The Journey
The Kairos origin story began as the culmination of another journey. Over a decade ago I made the decision to source my meat directly from a rancher. We were going halves on a cow before your neighbor thought it was cool. The next step was a journey that took years of learning how to hunt, successfully harvesting my first big game animal and sharing the story with my friends and family.
The energy and passion I have for food was not matched by the ingredients list I found on the spices I ordered online. This initiated a quest to source the most premium ingredients I could get my hands on to develop a spice blend that was worthy of the meat I procured. With these ingredients attained I took a scientific approach of pairing and refining the recipes. My mission was selfish at first but was followed by the realization that there might be people out there just as passionate about their food and shared in my vision of having the best options possible.
At launch I was concerned that people might not like the formulas that I felt made the meals world class, but the response was overwhelmingly positive and met with additional requests for more specialized applications. Our mission is to provide the people that are passionate about where their food comes from with the perfect addition to their meal.
We are obsessed with the details. We are hunters, outdoorsmen and semi-pro backyard chefs. We care about helping you create a story and a memory for your guests through the art of sharing a meal together.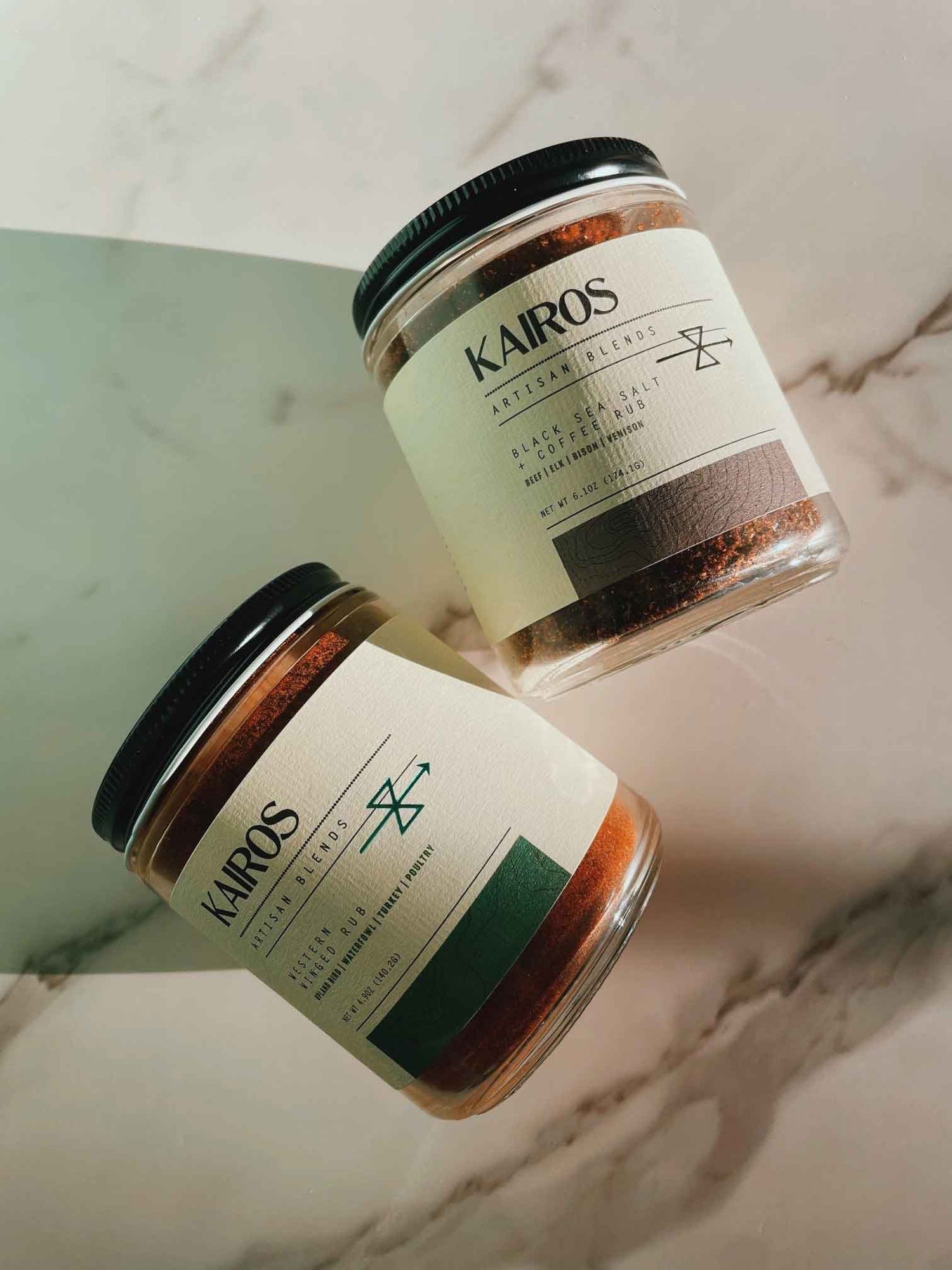 What We Make
Kairos Artisan Blends are damn fine, soon to be award-winning, ready-to-use seasonings designed for the outdoor chef, adventurer and home BBQ Connoisseur. Each Jar is hand blended in southern California, from only the highest-quality spices that we source from all over the globe. Every blend is thoughtfully designed for your favorite Wild Game, Butcher Cut, or Fresh Catch that you are cooking up for your community. 
Our Name
Kairos is an ancient Greek word meaning 'the right, critical, or opportune moment. It is often used to describe a moment in time or an opportune time.
That time can be The Right moment when you read the thermometer for the final time before calling the cook complete.
That time can be The Critical moment before you slowly and thoughtfully engage the trigger mechanism on your rifle.
That time can be The Opportune moment for a meal you are sharing with your friends and family that will become a cherished memory.
As we set out to build a premium, seasoning blend for the outdoor chef and we couldn't think of an ingredient more important than time itself,